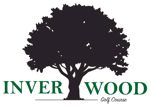 Inver Wood Golf Course
Inver Grove Heights, MN
Course Policies
Tee Time Reservations are accepted:
In-Person or by telephone 651-450-4320 and pressing option one (1) - 7 Days in Advance
On-line at www.inverwood.org - 28 Days in Advance
To insure the proper pace of play, the maximum group size is four players. Fivesomes are not permitted.
All groups must check-in with the golf shop five minutes prior to their tee time.
All play will commence from the first tee. Back side starting is not permitted without permission from the Starter.
Carry on beverages are not permitted. It's the law.
More info?