WHAT IS FOOTGOLF?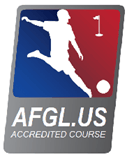 FootGolf is a way to enjoy time on a golf course by playing a new, exciting sport that combines the popular sports of golf and soccer together. The sport is played much like a traditional game of golf. Players kick a soccer ball from the starting tee area to the hole, which is 21 inches in diameter and marked with a flag.
Just as in golf, where the goal is to complete the course in the least number of swings, the object of FootGolf is to complete the course using the fewest kicks. Players select a starting tee area based on skill level. The holes played will vary in both length and difficulty based on the teeing area chosen by the players. Players may elect to play a 9 or 18 hole round.
FOOTGOLF GOALS AND OBJECTIVES
Enjoying the Outdoors
Playing FootGolf on the golf course itself provides a unique opportunity to connect with Mother nature and enjoy the fresh air and scenery that Inver Wood has to offer.
Exercise
At a time when technology can sometimes dominate use of our free time, what better way to get some exercise than to go outside and play some FootGolf.
Fun
FootGolf is meant to be enjoyed by all that play…so don't forget to have fun!
FOOTGOLF PROGRAM
Where
: Inver Wood Executive Golf Course
When
:
Mon – Thur 12 – 5pm
Fri/Sat/Sun 12 – Close
Cost
:
Adult $12
Youth $10
Ball Rental $3
What to wear
: Tennis or spikeless shoes (no cleats!). Dress code requires shirt & shoes to be worn at all times
FOOTGOLF GUIDELINES
Rules of conduct
. Before playing, make sure all players are familiar with expected etiquette while on the course.
Maximum of 4 players per group
Each player must have a soccer ball
Be courteous of golfers... refrain from loud noises or yelling
Should an errant kick interfere with play on the golf course, please remove your ball and resume play at a point that does not affect golfers
Pace of play is important. Please be ready when it is your turn to play
Be sure to stand clear of a player when it is their turn to kick.
Please return rental soccer balls to the Golf Shop upon completion of play
SAFETY
IMPORTANT... If severe weather threatens, return to the clubhouse immediately. Inver Wood is equipped with a lightening detection alert system. The system will sound a loud horn warning in the event of an increased risk of lightning.